PRODUCT INFORMATION
FIND MY SIZE
CUSTOMER REVIEWS
PRODUCT INFORMATION
I am Jacques, a classic raincoat with a hood. My zipper is hidden by a button placket which closes with snap fasteners. I have two big patched pockets to carry your essentials. I am fully lined and you can sew me in 3 different lengths.
In a raincoat fabric, I am a staple for the seaside and in other fabrics I'll be perfect for a trip into town or a walk in the countryside.
I AM Patterns are designed to be traced off. The different pieces overlap with each other so you will need to trace the pattern on paper. This means that you will be able to make multiple sizes of the garment and adjust the pattern as you trace it if necessary. For this you could use tracing paper, baking parchment, thin wrapping paper; or we can supply you with some spot and cross pattern paper.
The pattern is enclosed in an envelope. It contains the sewing pattern along with a step-by-step illustrated explanation guide.
Suggested Fabrics:
Water-resistant and waterproof fabrics, gabardine, waxed cotton, wool coating, cotton serge, cotton twill, denim, corduroy..
Fabric Requirements: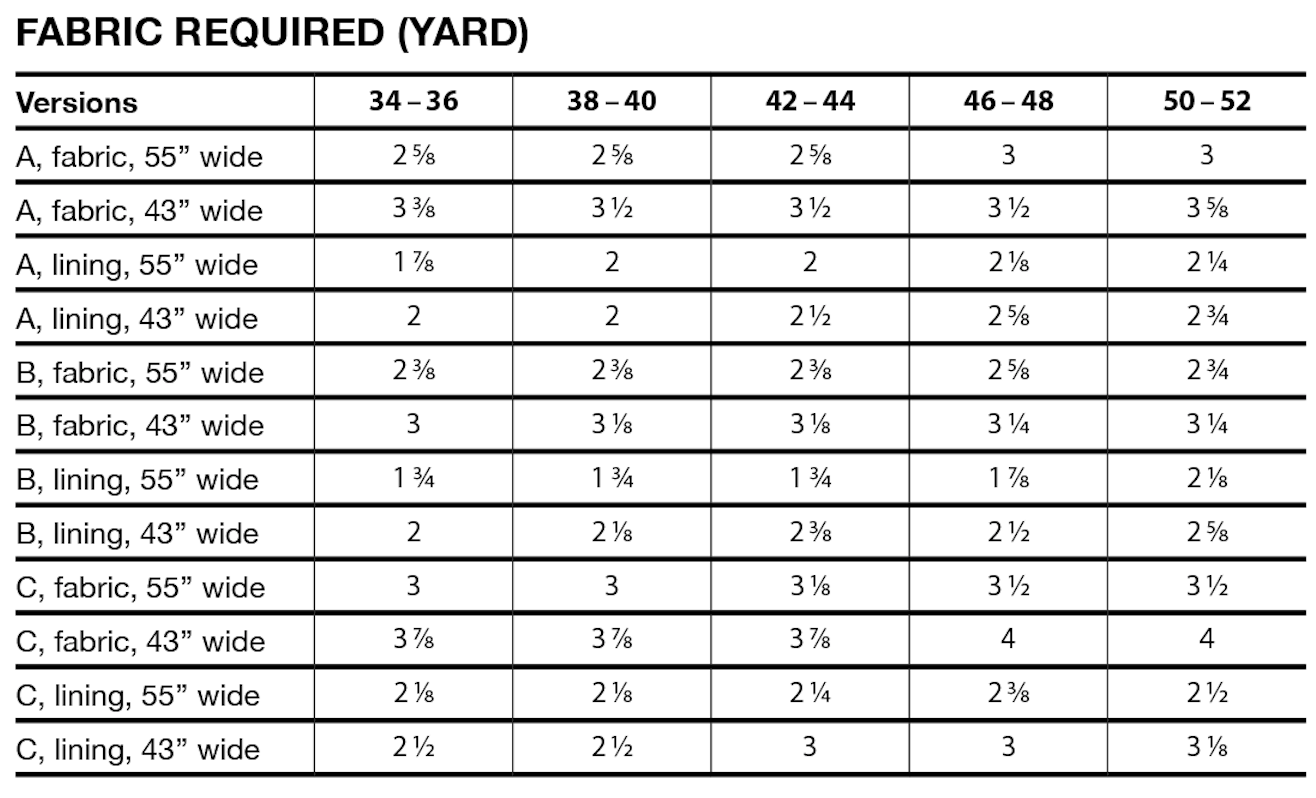 You will also need:
Short Version:
Fabric: 2 7/16 yards by 55'' wide

Lining: 1 3/4 yards by 55'' wide

Fusible interfacing: 18'' by 36'' wide

Eight 5/8'' wide snap fasteners

One 17'' long separating one-way or two-way zipper

Two grommets of 3/16'' diameter

Two cord stoppers

1 1/4 yards of drawstring cord

Classic Version:
Fabric: 2 5/8 yards by 55'' wide

Lining: 2 yards by 55'' wide

Fusible interfacing: 18'' by 36'' wide

Ten 5/8'' wide snap fasteners

One 25'' long separating one-way or two-way zipper

Two grommets of 3/16'' diameter

Two cord stoppers

1 1/4 yards of drawstring cord

Long Version:
Fabric: 3 1/16 yards by 55'' wide

Lining: 2 1/8 yards by 55'' wide

Fusible interfacing: 18'' by 36'' wide

Eleven 5/8'' wide snap fasteners

One 31'' long separating one-way or two-way zipper

Two grommets of 3/16'' diameter

Two cord stoppers

1 1/4 yards of drawstring cord
Ability: Intermediate

FIND MY SIZE